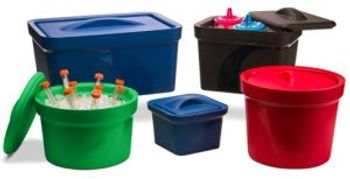 For over twenty years Magic Touch™ Ice Buckets and Ice Pans have set the standard for durability and performance in the laboratory. But a good thing can get better and Bel-Art Products is ready to prove it with the introduction of Magic Touch 2™ icewares.
"In addition to superior insulation properties, chemical resistance, and all the other features that have made Magic Touch™ icewares popular, new features of Magic Touch 2™ include a convenient pour spout to easily drain unwanted ice melt, drip-proof rims that keep the bench dry, and snug-fitting, keyed lids and bases for easy stacking," according to Robert N. Petersen, Product Manager for Bel-Art Products. "Their lightly textured, non-slip finish and raised edge provides secure transport and a stylish look."
Magic Touch 2™ Icewares are compatible not only with wet ice, but also with ultra-low temperature materials including dry ice, salt slurries, dry ice solvent slurries, or liquid nitrogen. Able to withstand a wide temperature range of -196°C (-320°F) to 100°C (212°F), these high-quality, expanded urethane icewares are lightweight, durable, non-sweating and impervious to moisture and odors.