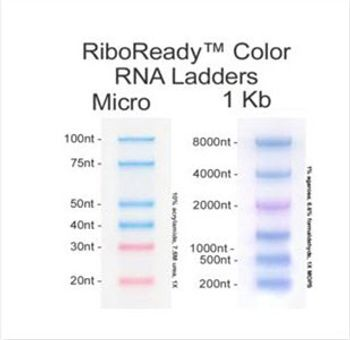 Easily estimate RNA molecular weight and confirm RNA transfer from gel to membrane with AMRESCO's new RiboReady™ Color RNA Ladders.
Molecular weight standards comprised of RNA fragments of predetermined sizes are essential on every gel for the size determination of unknown RNA. RNA markers in a variety of formats and size ranges are available from AMRESCO, including the newest additions, RiboReady™ Color Micro RNA Ladder and RiboReady™ Color 1 Kb RNA Ladder. Both ladders feature six bands pre-stained with two distinguishable colors for easy size identification and are supplied in a ready-to-use mixture that does not require heating or addition of denaturing agent before use.

The RiboReady™ Color Micro RNA Ladder is designed for precise sizing of RNA molecules in denaturing acrylamide gels, with apparent band sizes of 100, 75, 50, 40, 30 and 20 bases. RiboReady™ Color 1 Kb RNA Ladder, ideal for denaturing agarose gels, contains apparent band sizes of 200, 500, 1,000, 2,000, 4,000 and 8,000 bases. The RiboReady™ Color Ladders not only enable visual monitoring of RNA migration during electrophoresis, but also may be used to assess transfer efficiency of RNA to a blotting membrane and the membrane's orientation. RiboReady™ Color Ladders simplify molecular weight determination and are compatible with traditional denaturing RNA gels as well as AMRESCO's Formaldehyde-Free RNA Gel Kit and Rapid Formaldehyde-Free RNA Gel Kit. Each vial has sufficient material for 25 lanes.