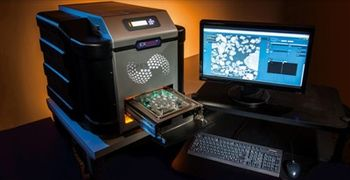 Accompanying white paper, "Improve Perception and Profitability," outlines the evolution of SEMS in meeting the changing needs of industry, academia
ASPEX Corporation, an FEI Company, announced the launch of EXpressx, the fastest automated bench-top SEM available. The pinnacle of truly integrated microscopy, EXpressx combines a robust scanning electron microscope, ASPEX's own OmegaMax EDX technology and new Perception 2 operating software, all of which increase the unit's performance and ease of use at an affordable cost.
"Whether for research or industrial manufacturing, contaminants and defects present a tremendous process and quality control problem and the EXpressx provides a single source solution, for detecting, identifying and characterizing these features rapidly and automatically," said Gregory Ott, Vice President and General Manager of ASPEX Business Unit.
EXpressx is powered by OmegaMax technology, where energy dispersive x-ray (EDX) detectors and a scanning electron microscope (SEM) are integral parts of the same unit. OmegaMax maximizes the effectiveness of the EDX sensors, resulting in dramatic gains in both sensitivity and productivity—all at an affordable cost.
The new Perception 2 operating software runs the EXpressx hardware seamlessly and features an improved, simple single monitor graphic user interface. Fully customizable to your specific application, Perception 2 delivers meaningful reports allowing for more informed decisions. Perception 2 is also compatible with many common, commercial software packages, so it's easy to export the robust data and share it in a variety of reports and presentations.
"In recent years, industries from aerospace and automotive engineering, to mining and pharmaceutical quality control, have used SEM-EDX techniques involving particle analysis to address critical cleanliness and wear debris applications in order to gain greater control over their quality control and increase profitability," said Ott. "ASPEX has been at the forefront of this 'industrial revolution' and is proud to be taking these industries into the next phase with EXpressX."