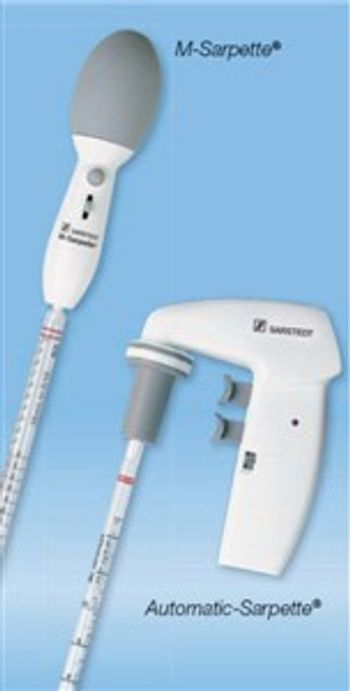 Sarstedt's Automatic-Sarpette®, provides efficient and accurate pipetting in an ergonomic design. Compatible with pipettes ranging from 1 ml to 100 ml, the Automatic-Sarpette® operates up to eight hours on a single charge and is fully operable while charging.

With a weight of 180 grams, the Automatic-Sarpette® is lightweight for non-tiring operation. A mode switch provides easy selection of three independent speed operations: high, low and gravity. Two comfortable triggers control the speeds and low-battery warning light signals when the pipettor needs charging. Charging unit and bench stand are included.

The M-Sarpette pipettor, also compatible with pipettes ranging from 1 ml to 100 ml, weighs only 115 grams and allows for comfortable manual pipetting with both left nd right hands. An integral 0.45 m filter prevents liquid from entering the unit. The M-Sarpette has no lead wires or batteries; squeezing the silicone bulb and pressing the thumb lever control aspirating and dispensing of liquid. A special discharge button makes this pipettor ideal for "blow out" pipettes.