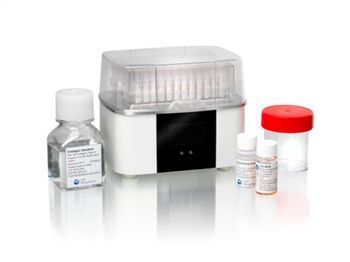 Novel Collagen-based Process Enables Physiologically Relevant Cell-Based
TAP Biosystems, a leading supplier of innovative automation and consumables for life science applications, is delighted to announce the introduction of a new RAFT™ (Real Architecture for 3D Tissue™) System. The system generates consistent and reproducible 3D cell cultures at physiologically relevant collagen concentrations, ideal for oncology and stem cell research.

TAP Biosystems' new RAFT includes a simple three step process of mix, make and measure simplifying the route to improved results from 3D experiments. Scientists simply mix the reagents from the kit with their cells, pipette into 96-well plates and incubate on the plate heater for 30 minutes to form a cell-seeded collagen hydrogel. The RAFT plate is placed on the hydrogels, and in just 15 minutes the medium is absorbed gently, leaving cells "encapsulated" in physiological strength collagen, perfect for use in their cell-based assays.

Using the RAFT system helps to create a realistic cellular environment to study cells' complex behaviour and gives scientists complete control over their experimental parameters, including choice of cell types and cell seeding densities. The 3D cell cultures produced are ideally suited to cell-based secondary screening applications using a range of analytical techniques, such as cell proliferation assays and fluorescence imaging.

Dr Grant Cameron, TAP Biosystems' RAFT Development Director stated: "There is an increasing interest in using 3D cell culture models for drug discovery because working with a more realistic cellular environment has the potential to improve compound selection. This is why we're pleased to introduce our new RAFT system.
Cameron continued: "Unlike other technologies, RAFT can deliver a range of collagen-based, reproducible 3D cell culture models that could provide more physiological relevant responses in for example, oncology and stem cell research. We look forward to introducing scientists to the concept and to demonstrating how RAFT's simple, convenient workflow could make it possible for them to routinely incorporate 3D cell cultures in their screening programmes."