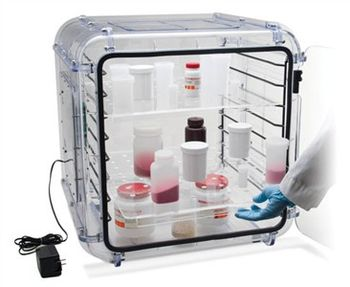 Low humidity storage of moisture sensitive chemicals, electronics, and other materials can be a challenge, particularly large containers or large quantities, but the new Scienceware® Grande Desiccators provide users with the extra space they need.
"This extra-large desiccator cabinet delivers a low humidity, dust free environment in a clear, see through body that allows quick visualization of its contents" according to Robert N. Petersen, Product Manager for Bel-Art Products. "The Grande's pull-out shelves are removable to allow the desiccator to be used as a single, spacious chamber for extra-large items."
Exterior dimensions of the Scienceware® Grande Desiccators are 26 x 24 x 26" with an interior capacity of 3.6 cu. ft. "Considering interior volume, approximately 252 standard 12oz cans of soda would fit into a unit," adds Petersen.
Users can choose the desiccation method that best suits their needs: Standard, Gas Purge or Automatic. The Standard model, catalog no. F43000-1010, requires separately purchased desiccant that can be placed below the bottom shelf. It has a suggested list price of $1,900.
The Gas Purge model, catalog no. F43010-1010, includes two gas port fittings with stopcock valves located on the back panel to utilize a dry gas of your choice as desiccant. The suggested list price is $1,950.
The Automatic model, catalog no. F43010-1010, includes a desiccant that is housed in a pre-programmed, 120V module that continually regenerates the desiccant every 20 minutes. This model has a suggested list price of $2,175.
Additional shelves are available in a set of two under catalog no. F43000-0001 for a suggested list price of $80.