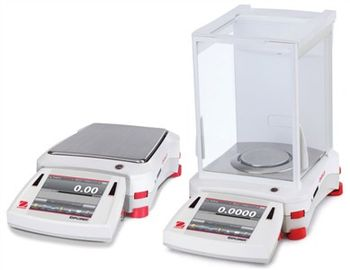 — Practical Touchless Sensors Improve Weighing Efficiency and Prolong Instrument Life —
The Explorer series of analytical and precision balances from OHAUS Corporation, a leading worldwide manufacturer of balances and scales, features four user programmable touchless sensors. Ideal for laboratory applications, the sensors free lab technicians' hands and reduce wear and tear on the balance while preventing a loss of focus when delicate or critical samples are being weighed.

The two programmable sensors on the base and two on the display can be setup individually to offer hands-free operation of tare, zero, print, calibration and other functions to minimize cross-contamination or unwanted residue on the balance. Simultaneously, the ingeniously practical sensors prolong the life of the instrument by minimizing the need to press the keypad with a hand, tool or foreign object.

In addition to keeping the balance clean and minimizing damage, the sensors improve weighing speed and efficiency in the laboratory. A simple wave of the hand over the touchless sensors eliminates the extra effort or time to press the keys.

The Explorer's other advanced features include OHAUS' recently enhanced SmarText™ 2.0 easy-to-use graphical software, a fully-automatic internal calibration system, intuitive user setup and modular design in which the display can be separated from the weighing base for maximum flexibility.