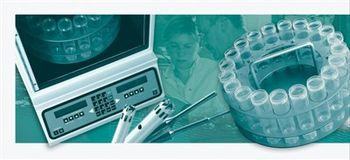 The DPS-20 Dual Processing System simplifies sample preparation by combining mechanical and ultrasonic (sonication) homogenizing and sonication into an automated, closed compact and timesaving unit. Its unique design allows the use of each homogenizing method dependently or independently of each other within a programmable or manual mode. The automation of this system allows for repeat processing and consistent results, which frees up a large amount of valuable lab time.

If your particular application would benefit from Dual Processing Homogenizing than either homogenizing method made be easily turned off. This allows the DPS-20 to function as three separate automated systems; Automated Mechical Homogenizer, Automated Sonicator and Automated Mechical and Ultrasonic Homogenizer.

Another added benefit of the DPS-20 is that there is no need to alter or change the tube one will continue to use in their research. Whether processing in small microtubes or larger centrifuge tubes, the DPS-20 carousel racks can accommodate a variety of tubes from 1.5 to 50ml. Sample integrity is also maintained with a unique carousel rack design that incorporates a cooling tray. Trays can be easily filled with cooling beads or an ice bath when samples need to remain at sub-ambient temperatures.