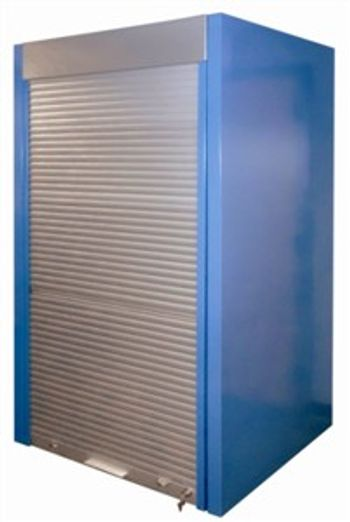 New design increases door strength, decreases door weight, and improves operation
Lista International Corporation announces the availability of a major upgrade to its immensely popular Lista Storage Wall® System, a new tambour door with a double wall foam-filled aluminum slat design that increases door strength. With a proven track record, and already a popular option for business, military, ammunition, and pharmaceutical security systems, the new aluminum slat design decreases door weight and makes it easy for operators to open and close the door.
The Lista Storage Wall, a modular drawer, shelf, and roll-out tray storage system, provides optimum security, productivity and flexibility. Based on a frame system that allows virtually unlimited configurations, maximum weight and cubic volume capacity, the Storage Wall system is available in a variety of heights and widths to take advantage of potential cubic space.
The new tambour door can be mounted to most Storage Walls or Control Stations with door tracks of the previous models, and can also be mounted to any preexisting Storage Wall requiring tambour door without door tracks.