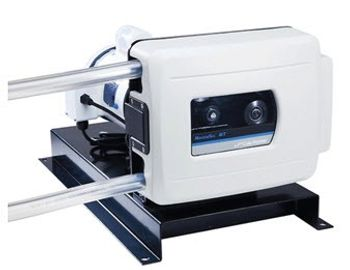 Achieve the highest flow rates of any Masterflex pump
Masterflex B/T pumps from Cole-Parmer are known for their high flow rates and rugged dependability. With powerful motors, they are the ideal choice for transferring viscous or shear-sensitive materials. Now, the Masterflex B/T Fixed-Speed Pumps offer flow rates up to 42 LPM (11.1 GPM) when used with B/T pump tubing.
The durable construction of these pumps ensures a long service life with minimal maintenance. The powerful 746 W (1 hp) reversible motor enables users to pump fluids in either direction and easily prime or purge tubing. All Masterflex B/T pumps include the Rapid-Load® pump head for fast and easy tubing changes. The interlock switch cuts power to the drive when the pump head is opened. The redesigned occlusion mechanism slides the tubing bed out of the way for easy tube loading and improved occlusion of the tubing when the pump head closes. The improved tubing retention mechanism holds the tubing firmly in place to allow for a simple loading process. New tubing formulations provide longer tubing life.
For more information on this model or any Masterflex peristaltic pump, call 800-323-4340 or visit ColeParmer.com/19397.