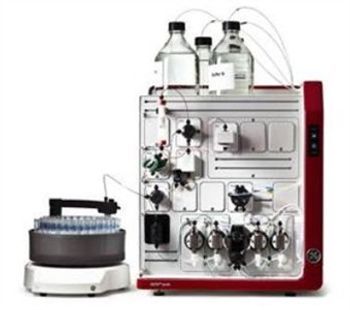 Intuitive, easy-to-use system for both experts and beginners
Built-in flexibility allows ÄKTA pure to adapt to changing research needs
GE Healthcare, the healthcare business of GE announced today the launch of ÄKTA™ pure, a chromatography system for flexible, reliable and intuitive purification of proteins. ÄKTA pure, the latest addition to the industry-leading ÄKTA range of chromatography systems, is an easy-to-use modular system that offers the flexibility to support both routine and challenging purification requirements, as well as being adaptable to changing research needs.

Johan von Heijne, Head of Research Products, GE Healthcare Life Sciences, said, "In an increasingly challenging research environment, where needs and priorities can change rapidly, researchers want to know that the protein purification system they purchase has longevity. By taking a modular approach with ÄKTA pure, we are providing a system that not only simplifies researchers' work but also gives them a flexible option for expanding and tailoring their purification capabilities as their research progresses. There is simply an ÄKTA pure for everyone. "

In today's research environment, scientists are often expected to undertake all aspects of the protein discovery workflow, from genomics through to purification and characterisation, and the requirement to isolate specific proteins at high purity in short timelines often means that chromatography conditions and methodologies have become more challenging. ÄKTA pure is specifically designed to enable researchers - from beginners to experts - to easily isolate their target protein, whether under simple or complex conditions.

ÄKTA pure eliminates the need for programming skills to control the chromatography run, with the addition of simple drag-and-drop method templates in the UNICORN™ 6 control software. Through the software it is also possible to electronically track the use of, and data obtained from, individual columns, which is particularly useful as chromatography systems are often placed in shared facilities.