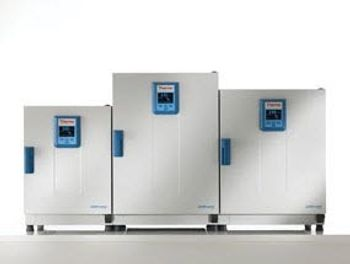 Thermo Scientific Heratherm Ovens Maximize Efficiency, Safety and Ease-of-Use
Thermo Fisher Scientific Inc., the world leader in serving science, today introduced its new large-capacity Thermo Scientific Heratherm heating and drying ovens in North America.

The new products complete the range of Heratherm® ovens by adding two more sizes for high sample volume or larger samples: 400- and 750-liter capacity. Designed with efficiency in mind, the units use significantly less energy to operate (up to 23 percent less) than previous models. For convenience, all models connect to a 240V circuit with standard Nema 6-20 plug – no need for hardwiring.

The Heratherm General Protocol ovens are designed for day-to-day drying and heating applications. Gravity convection technology ensures gentle airflow. The flexible shelving system provides optimal use of the internal chamber space. A timer function offers additional energy savings potential. Set up on lockable casters, the units can easily be installed and moved as needed.

The Heratherm Advanced Protocol ovens feature mechanical convection technology for fast drying and optimal temperature distribution. The programmable control enables pre-defined temperature ramps, including changes to damper position and fan speed. A sophisticated timer extends the automation options even further. An optional stainless-steel exterior meets demanding needs in pharmaceutical and clinical laboratories.