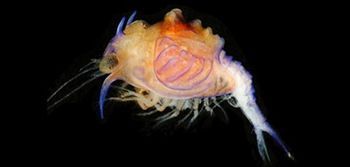 Keith Crandall Finds the Connection Between 'Monster Larva' and Unique Species of Shrimp
WASHINGTON — The origin of Cerataspis monstrosa has been a mystery as deep as the ocean waters it hails from for more than 180 years. For nearly two centuries, researchers have tried to track down the larva that has shown up in the guts of other fish over time but found no adult counterpart. Until now.
George Washington University Biology Professor Keith Crandall cracked the code to the elusive crustacean's DNA this summer. His findings were recently published in the journal "Ecology and Evolution," and his research was funded by the National Science Foundation and the Gulf of Mexico Research Initiative. In it, Dr. Crandall, the senior author of the paper, explains how "monster larva" and the deep-water aristeid shrimp known as Plesiopenaeus armatus are one in the same: larvae and adult forms of the same species.
For over 180 years, researchers have tried to find the adult version of the Cerataspis monstrosa, pictured. Biology professor Keith Crandall found the adult species earlier this summer. Darryl L. Felder, George Washington University
Attempts to find the adult incarnation of the larva weren't without significant effort over the span of time. The crustacean's ability to morph into a shrimp bearing no resemblance to its juvenile form was a challenge as externally, the two couldn't be more different.