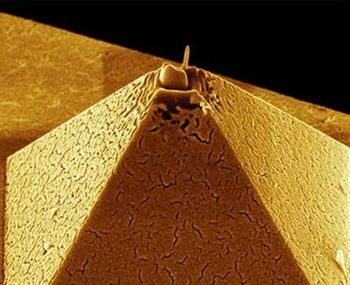 New LabWrench Category
We have been pretty busy this week on LabWrench with the addition of many new instruments as well as a new category; Atomic Force Microscopes (AFM). AFM is a high-resolution type of microscopy that is best used for applications such as the imaging and measuring of biological samples or other matter at a nanoscale.
Some of the AFMs added to Labwrench so far include:
Agilent Technologies - 5500 AFM, 5600LS, 5500ILM, & 6000ILM
Bruker AXS - Dimension FastScan Bio
Click here to add the Atomic Force Microscopes category to your My Bench Communities. You can receive updates on all new Atomic Force Microscopes products being entered on LabWrench, articles and news feeds relating to the category, and all questions being asked about AFM (you might just know the answer!).
What else is new on LabWrench?
There has been a large focus on the Multimeters category this week as more than 15 products have already been added so far, with more to come. Are you looking to purchase a new multimeter? If so, have a look at some of the ones posted this week to see which one best suits your needs.
Agilent Technologies - U1232A, L4411A, & U1242
B&K Precision - 2700 & 2405A
Fluke Corporation - 233, 87V, & 1587/1577
Dwyer Instruments - MM1 & MM-2
Get all the latest news and updates on Multimeteres by adding them to your "My Bench Communities".
Don't forget to follow us on Facebook, Twitter, and LinkedIn to get the latest news and updates and to participate in all discussions.
James Vandal
Product Research Coordinator
LabX Media Group
jvandal@labx.com