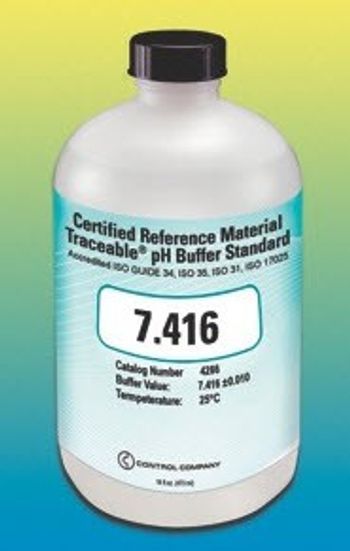 Control Company's Traceable® pH Standards, Certified Reference Materials (CRM) are 100% compatible with all instruments and probes. Accuracy for the Traceable® Buffer at 25°C is ±0.010 pH—the most precise available.
Certified Reference Materials meet Federal/State/local agencies' strictest mandates and deliver exact calibration results for any pH meter.
A2LA ISO 17025 (Calibration Laboratory) and ISO Guide 34 (Certified Reference Material Producer) provide highest achievable levels of product production, documentation, and accuracy. Additional accreditations include ISO 31 (content) and ISO 35 (statistical analysis). ISO 9001 ensures that world-class product standards for Materials are always met. Select values are manufactured to IUPAC (International Union of Pure and Applied Chemistry) formulation. All Certified Reference Materials feature resistance to temperature changes and long-term buffer stability.
To assure accuracy an individually serial-numbered Traceable® Certificate is supplied to indicate traceability to standards provided by NIST (National Institute of Standards and Technology) and/or a National Standards Laboratory.
Each 16 ounce bottle supplied with an individual temperature compensation chart, traceability information, and Traceable® Certificate.