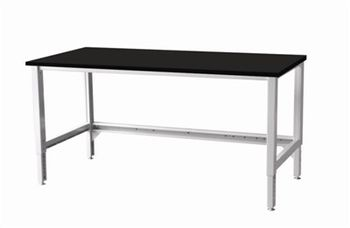 Sovella's NEW Cornerstone-WS™ Lab Bench Replaces Basic Lab Bench,
Redesign Brings Greater Flexibility, Strength and Stability
As a leading manufacturer of Laboratory furniture and accessories, Sovella continually seeks to improve and perfect our wide range of products. Sovella continually consults with our customers and partners to ensure that we are providing solutions that best meet the needs of the users. With those needs in mind, Sovella® has introduced a new line of Laboratory benches to replace the previous "Basic" lab bench product line.

The new Cornerstone-WS™ Lab Bench has an increased maximum load capacity of 1500 lbs. (previously 660 lbs. with the Basic bench), and an improved leg design that allows for greater strength and stability. The height adjustment range has also been increased with Cornerstone-WS™ in one inch increments from 24.75"to 37.75", making these tables suitable for seated or standing applications. Cornerstone-WS™ utilizes all Sovella® standard accessories and allows for easy attachment of Sovella Drawer Units 26, 35, 38, and 45 using standard drawer mounting brackets. The new drawer mounting design provides increased flexibility to move the drawer anywhere along the width of the frame. The drawer brackets are universal by design to allow the attachment of most any third-party casework to the Cornerstone-WS™ Lab Bench.