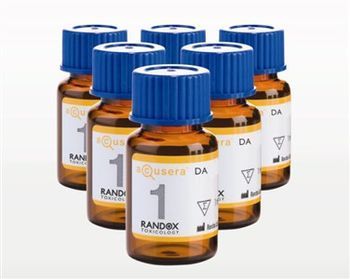 Quality control plays a crucial role in toxicology testing, in order to prevent errors and the risk of an incorrect result. By regularly monitoring the performance of laboratory systems and processes, toxicologists can quickly identify issues and resolve them. UK based manufacturer Randox Toxicology (subsidiary of Randox Laboratories Ltd) has launched a new customisation service for the development of tailor made, multi-analyte toxicology control material, offering both simplified assessment and improved laboratory efficiency.
Quality Control material can be utilised to check accuracy and precision of any laboratory technique. The material mimics a normal sample; however assigned values allow the user to monitor their result accuracy. As substance abuse rises to varying degrees across the globe, toxicologists' are required to test for a growing number of drugs in the laboratory. As a result of this, many laboratories find they have to source reagents and quality control materials from various suppliers. Most reagent manufacturers offer quality control material in line with their test portfolio; however this can lead to biased results and a false indication of accuracy.
The new customisation service offered by Randox Toxicology aims to combat these issues; offering a completely independent control suited to the laboratories' testing requirements. Randox Toxicology offers true third-party control material which has been assigned through independent laboratories, ensuring un-biased, multi-method and multi-analyser data.
Randox Toxicology quality control material is 100% human with no preservatives; ensuring accurate value assignment and stability. The ability to combine a number of drug controls into one multi-analyte control material offers significant cost and time efficiencies. Toxicologists can determine their vial size dependant on the laboratory's testing throughput and the relevant base material (urine, blood, serum or PBS). The lyophilised control format offers convenient storage and transportation at 2-8oC.
Drawing on thirty years' experience, Randox Toxicology control material is extremely consistent, with accurately assigned values ensuring the performance of both the technology and practices in the laboratory. 'Therapeutic Drug Control' is an example of a current off-the-shelf quality control material product supplied by Randox Toxicology. This control is available in three levels and can be used to regularly monitor the accuracy of eighteen therapeutic drug assays on one system.
As well as the convenient customisation service, Randox Toxicology offers a range of Quality Management Solutions for the toxicology laboratory. Both Internal and External Quality Assessment programmes are available, enabling toxicologists to monitor their analytical performance, access peer group reports and compare results with other laboratories using the same methods.