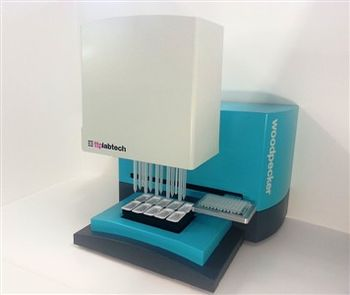 Precision automated liquid handling portfolio further expands
TTP Labtech, leading provider of liquid handling automation for crystallography, including the renowned mosquito® Crystal and mosquito LCP, will preview their latest innovation, the woodpecker® automated, non-contact screen optimiser, at ICCBM 14, 23rd - 28th September, Huntsville, Alabama, booth #20. The woodpecker®'s novel positive displacement pipetting technology will broaden the screen optimiser tools available for crystallographers by offering simple, reliable and fast set-up of screening plates, with no clogging or cross-contamination. A wide range of fluid viscosities, from as low as 0.5 µL, can be dispensed quickly and easily, directly into crystallography plates, without the need for liquid classification. Optimised screen plates can therefore be set-up in less than 5 minutes with confidence in the accuracy and repeatability of the volumes dispensed.

Delegates can also learn about the use of mosquito LCP at The Scripps Research Institute, within the latest edition of the TTP Labtech labcrystal magazine which will be released onsite at the show. The article details a research project evaluating technologies for the benefit of the membrane protein structural biology community. Dr Vadim Cherezov Ph. D., assistant professor at The Scripps Research Institute comments with the piece, 'mosquito LCP provides an extremely reliable and accurate solution for setting up high-throughput crystallisation trials, and is virtually maintenance free'. Packed full of news and applications from the protein crystallography community, labcrystal not only highlights customer experiences but provides valuable insights for optimising research workflows.