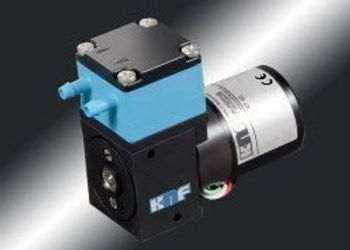 KNF introduces a new small brushless DC motor (Type BL30) as standard and readily available for integration into a wide range of liquid and gas diaphragm pumps for OEM applications. This motor (with outside diameter of only 32mm) is designed to fit within standard compressor housings and delivers all the critical performance benefits associated with brushless DC motor technology. These ideally engineered power solutions offer long service life, quiet and cool operation with minimal pneumatic or electric noise, high torque characteristics, and speed and closed-loop control, among other advantages.
The BL30 motor can be supplied in 12V or 24V versions configured either as 2-wire (for power input) or 4-wire solutions (for power input, tachometer output, and speed control signal input). All provide protection against reverse polarity, over-voltage, and over-temperature, and motors additionally are IP54 rated to protect reliably against dirt, dust, oil, and/or splashing water arising from harsh application conditions.
Standard KNF pump products easily accommodating the BL30 motor include Types NF30 (300 ml/m) and NF60 (600 ml/m) for liquid-handling applications and Types NMP830 (3 l/m) and NMP850 (4.2 l/m) for handling gases.
KNF leadership in modular pump design ultimately allows for selection from a variety of motors, wetted materials, and other components to develop customized solutions promoting optimized system performance.