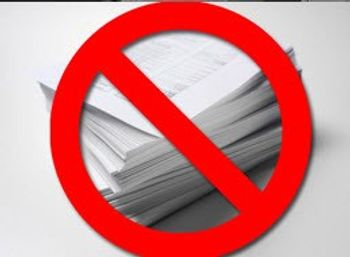 Hope you're having a good week so far.
Thinking About Going Paperless?
Has your lab been on the fence about going paperless? There are many advantages and opportunities in converting your lab from a traditional, paper-based environment to a paperless laboratory. Some of these advantages include more efficiency in the lab and large annual savings. If you want to learn more about converting your lab to a paperless environment, have a look at this Lab Manager Magazine article written by Thermo Fisher Scientific:
Delivering the Paperless Lab Environment - a Game Change
LabWrench Novelties
There's been a wide variety of new products added to LabWrench this week including a particular focus on Lab Ovens. You can have a look at all the instruments added by clicking on the links below.
Lab Ovens - BMT USA Ecocell, BMT USA Durocell, BMT USA Venticell, Amerex Instruments IncuMax, & Amerex Instruments HS-101/HS-111
Software (Analytical) - Tecan Freedom EVOware & ChemSW Safety Inspection Live™
Automated Liquid Handling - Tecan Air LiHa, TTP LabTech Mosquito Crystal, & TTP LabTech Mosquito LCP
Microplate Readers - Photon Technologies International FluoDia & Corning Life Sciences Epic® System
You can receive all the latest updates on these categories and instruments by joining the LabWrench Community forums here.
Featured Question
This question is concerning an older mass spectrometer so hopefully one of you readers have used one before and can help answer this question. The question is concerning an Agilent Technologies HP 5970 GC-MS System.
Posted By: jkitchen
Message: My 5970 aborts the run at anytime during the run with Mass spec communication error. Is this a board problem?
Click HERE with your answer!
If you haven't done so already, don't forget to join us on Facebook, Twitter, and LinkedIn to get the latest news and updates and to participate in all discussions. Click on the icons below to follow us now!
James Vandal
Product Research Coordinator
LabX Media Group