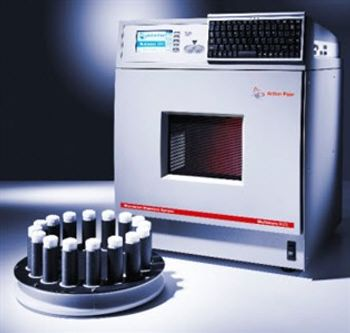 Anton Paar announces the launch of the new line of Multiwave sample preparation systems – the Multiwave PRO and Multiwave ECO.
New regulations for elemental analysis of food, pharmaceutical, and consumer products as well as improvements in analytical techniques such as ICP-MS and ICP-OES, are revealing the limitations of legacy digestion techniques; quality trace elemental analysis begins in sample preparation.
Engineered to go beyond sample digestion, the Multiwave PRO provides comprehensive safety features and gives the analytical chemist access to preparation techniques unique to Anton Paar microwave digestion systems such as:
Microwave Induced Oxygen Combustion
Solvent Extraction
Sample Drying
Evaporation
UV Digestion Leaching
The Multiwave ECO is a low cost microwave digestion system designed for quick and convenient preparation of well-defined samples for routine environmental and food testing applications. The unique reaction vessel autoventing technology reliably vents at 20 bar of pressure, improving reproducibility and reducing rework. With no tools required for closing vessels and rapid cooling, as much as 30-45 minutes can be eliminated from a sample preparation cycle. For the first time, large sample masses can be reliably digested at minimum cost.