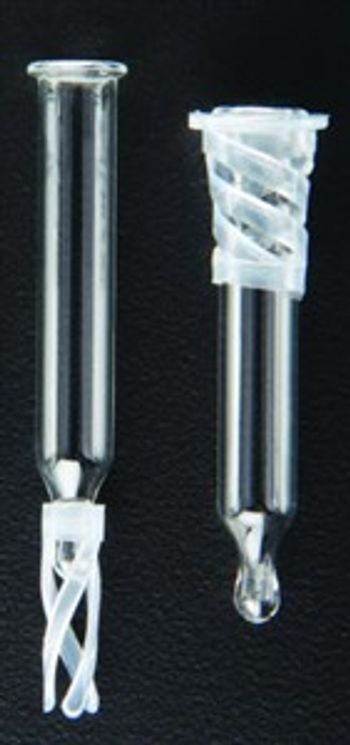 Built-in shock absorbers and a conical design assure improved precision and reliable performance for automated sample handling systems
J.G. Finneran Associates designed Limited Volume Inserts with Bottom and Top Springs to ensure that autosamplers extract even the smallest sample volumes every time, without damaging injection needles or breaking sample containers. The inserts are preassembled with polymer bottom springs or the patented Top Spring™, which act as shock absorbers to protect sample needles from bottoming out during sample extraction. The precision internal point design permits maximum sample withdrawal. The inserts were designed, engineered and manufactured by J.G. Finneran Associates, the originator of many of the innovative sample handling products chemists rely on everyday.
Limited Volume Inserts allow chemists to analyze smaller sample volumes in standard size vials that are compatible with autosamplers. Composed of borosilicate glass or polypropylene, limited volume inserts from J.G. Finneran are available with bottom or top springs in 0.050mL, 0.100mL and 0.250mL sample volumes. These inserts fit in 2.0mL and 4.0mL vials with Snap Seal, Snap Ring, Crimp Top, and Big Mouth finishes, as well as standard and screw thread openings.
"When analysts began testing smaller sample volumes, inserts made it possible to continue using standard vials with their existing autosampling equipment," said Janet Cohen, International Sales and Marketing Manager at J.G. Finneran Associates. "Our innovative inserts with bottom and patented Top Springs, while preventing injection needles from "bottoming out" and losing valuable samples, deliver improved precision and safer, more reliable handling," she added.