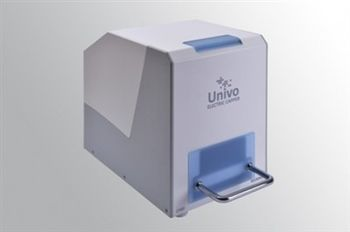 Designed to work with all sample storage 96-format tube and rack combinations, without use of adapters, the Micronic Univo Electric Capper CP480 sets a new benchmark for ease of use, versatility and speed of operation.

Operating as a stand-alone benchtop unit the compact Univo Electric Capper is able to uniformly cap a complete rack of 96 sample storage tubes in only 4-9 seconds* - less than half the time of competitive systems.

Built to meet the widely varying needs of different customers, the versatile Univo Electric Capper can cap all Micronic plug style caps: capmats, capbands and capclusters made of TPE, EVA or other materials on 96-format Micronic tubes and racks. The capper is also compatible with most other brands of tubes and caps.

The Univo Electric Capper is extremely easy-to-use. For capping, simply place the rack filled with tubes in the sample holder and place a capmat, capband or capcluster on the tubes. The capping process is completed automatically by gently pushing in the sample drawer to close it. A controlled pressure system on the Univo Electric Capper presses all the caps down evenly to ensure uniform, high integrity storage of your samples in capped tubes. Simply pull the sample holder out to retrieve the capped rack of tubes.

Dedicated to the design and production of innovative sample storage tubes, accessories and instruments over the last 25 years, Micronic is uniquely able to offer laboratories the expert advice to help them safeguard one of its most valuable assets - its samples.