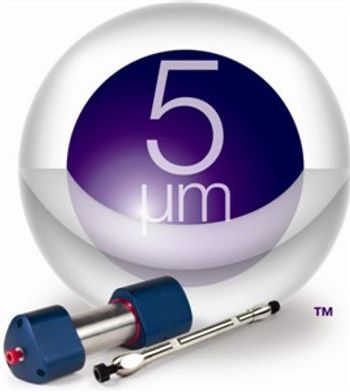 Larger Particle Size Delivers Improved Performance for HPLC and Preparative LC
Phenomenex Inc., a global leader in the research and manufacture of advanced technologies for the separation sciences, announces the addition of a 5-micron particle to its Kinetex core-shell product line. As the largest diameter particle in the family, Kinetex 5-micron core-shell columns deliver better performance than 3- or 5-micron fully porous offerings, with no increase in backpressure. In fact, the new 5-micron media provides 90 percent higher average efficiencies compared to the same size fully porous columns and little to no method development is required to achieve improved performance on standard HPLC systems. Chromatographers can simply substitute these columns into reversed phase HPLC methods that use traditional fully porous columns.

"Fully porous 5- and 3-micron columns are used in labs everywhere, from academia to food testing to clinical research," comments Simon Lomas, brand manager for Phenomenex. "Delivering efficiencies comparable to or better than 3-micron columns at 5-micron pressure, Kinetex 5-micron Core-Shell Technology gives chromatographers the ability to get more out of their standard HPLC systems."

Kinetex 5-micron delivers increased resolution and higher efficiencies and extends the scalability and portability of the product line. With the current range of available particle sizes, including 1.3-, 1.7- and 2.6-micron, the same method can be easily transferred from UHPLC to HPLC to Preparative LC with Kinetex Core-Shell Technology. For customers interested in small-scale preparative purifications, Kinetex 5-micron is available in Phenomenex's Axia™ preparative hardware technology. "Kinetex Core-Shell Technology in the Axia preparative format delivers a performance advantage to customers in pharmaceutical and natural products development, who can now use our scalable core-shell solutions from analytical stage UHPLC or HPLC methods to purification," explains Lomas.

Phenomenex core-shell products meet researchers' need to improve results and increase productivity without large capital expenditures. By delivering significant improvements in speed and separation efficiency over traditional fully porous columns, Kinetex Core-Shell Technology enables chromatographers to get superior results on any LC or UHPLC platform along with potential reductions in solvent usage.

With traditional, fully porous particles, efficiency decreases as flow rate increases, resulting in loss of resolution and sensitivity, which slow the overall analysis time. Kinetex Core-Shell Technology enables high resolution and sensitivity over an extended linear velocity without generating excessive backpressure, along with significantly lower limits of detection and quantitation.