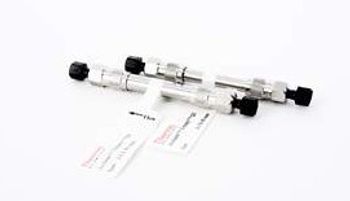 Acclaim Trinity Q1 Column Designed to Eliminate Need for Ion Pairing Reagents, Exotic Mobile Phases
Thermo Fisher Scientific Inc., the world leader in serving science, today introduced the Thermo Scientific Acclaim Trinity Q1 HPLC column, designed to facilitate high-resolution and high-throughput trace analysis of the herbicides diquat and paraquat in plants by liquid chromatography-mass spectrometery (LC-MS).
According to the U.S. Environmental Protection Agency Healthcare Handbook, diquat and paraquat are non-selective herbicides that are widely-used in agriculture and by government agencies and industries for control of weeds. Both are considered to be toxic, and a recent study suggested a linkage between paraquat and Parkinson's Disease among farm workers. While the dangers of the pesticides, when concentrated, are well documented, the effects of residual levels of these pesticides in food require additional research.
AcclaimTM TrinityTM Q1columns have demonstrated the ability to deliver the retention, resolution, peak shape and speed needed to improve diquat and paraquat LC-MS analysis in common terrestrial and aquatic plant matrices. The stable baseline separation for diquat and paraquat reduces the challenges of achieving accurate detection and quantitation compared to reversed-phase column methods.
The new column contains innovative Nanopolymer Silica Hybrid (NSH) technology that, unlike other support systems, does not require ion pair reagents or exotic mobile phases to separate diquat and paraquat for LC-MS analysis. The cation-exchange function provides retention and separation for diquat and paraquat while the anion-exchange moiety effectively deactivates the undesirable interaction between the surface silanols and the analytes.