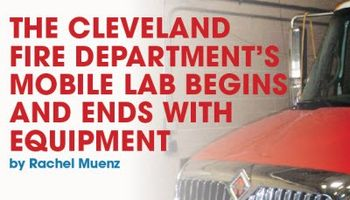 Born of the anthrax mailing scare of 2002, the mobile lab in the hazardous materials section of the Cleveland Fire Department in Ohio deals with public health risks and the identification of unknown, potentially dangerous substances in the region. In early 2000, that meant going after white powders that could be anthrax.
"Going back to approximately 2002, when we started chasing all the white powders and there were a lot of unknowns, we decided [on] a better way, a better mousetrap if you will, of trying to find unknowns," said Lieutenant Terry Bindernagel of the department's hazardous materials section about how the lab got its start.
The fire department worked with the McCrone Group's Hooke College of Applied Sciences, based in Westmont, Illinois, to develop the lab, which has about eight employees and is fitted onto a 20- foot box trailer, making it easy to transport to sites in Cleveland and the surrounding counties the fire department covers. That vehicle was put into service in 2004.
"It's used not only for response, but it's also used at events, and [its use] varies," Lt. Bindernagel said about the number of calls the mobile lab responds to annually, adding that because of that variability it's tough to pinpoint an exact average number of calls the lab responds to. "It's based on perceived needs sometimes [as well]."
A typical request for the mobile lab can come from anywhere—either within Cleveland or the surrounding counties—and responding to that call can mean spending from one to eight hours at the site.
"It depends on the situation, how long it takes to get a sample, and [whether] you have to work with other agencies at a scene," Lt. Bindernagel explained. "Sometimes when I go to a scene it's a law enforcement issue—it varies. So you're sometimes working within other people's frameworks."
When the team arrives on-site, they meet with whoever is in charge. Sometimes the fire department itself is in charge, and other times law enforcement or the FBI has control over the situation.
"We show up, and we assist on the scene," Lt. Bindernagel says of working with other agencies. "We work under them–whatever they ask for, whatever they request, we try to provide it."