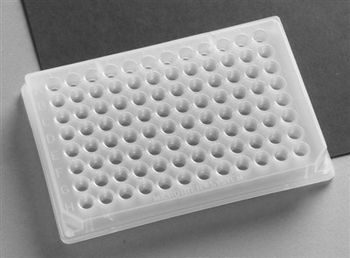 Porvair Sciences has developed a range of shallow 96-well plates for storage / collection applications in the fields of cell biology, molecular biology, drug discovery, screening and genomics.

The new shallow plates are available with well capacities of 350ul, 270ul and 220ul in a height of just 14.7 mm. This allows more plates to be stored or stacked in a give space. Offered with flat, round or v-bottom - a choice of shallow plate is available optimised for particulate collection or liquid removal. Raised rims on the 96-well shallow plates improve sealing and stop cross contamination.

Porvair 96-well shallow plates are manufactured in a clean room environment from extractable-free polypropylene to ensure the integrity of your stored samples. Combining an affordable price with uncompromising high quality, the 96-well shallow plates are precisely manufactured to comply with ANSI/SBS dimensions** ensuring complete compatibility with all automated sample handling systems, microplate readers and washers.