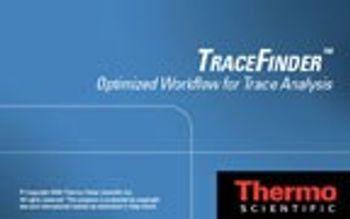 Thermo Scientific TraceFinder software version 2.1 performs routine analysis with GC, LC, HPLC, GC-MS and LC-MS, including non-mass spectrometry detectors

Thermo Fisher Scientific Inc., the world leader in serving science, introduces Thermo Scientific TraceFinder software version 2.1 for routine, high analytical throughput analysis of gas and liquid chromatography data. The software now supports Thermo Scientific non-mass spectrometry detectors, and this detector-agnostic package is designed for the quantitative and qualitative review of data for routine analyses.
Major applications include clinical research, forensic toxicology, food safety and environmental analysis.
TraceFinderTM software version 2.1 is designed to eliminate the need for multiple software packages when moving between most gas and liquid chromatographic techniques. This can provide more flexibility in the laboratory and reduce the need to learn new software packages.
TraceFinder software is designed to make routine GC, GC-MS, HPLC, and LC-MS quantitation and targeted analysis simple, fast and productive. The software offers a simple workflow-driven method setup and automated data acquisition, data processing and reporting capabilities. Methods developed with TraceFinder software can be shared between instruments and between laboratories. This sharing ability allows users to make methods readily available on new instruments.
When using triple quadrupole GC-MS and LC-MS systems, the Compound Data Store (CDS) provides an extensive list of selected reaction monitoring (SRM) experiments in environmental testing, food safety residue analysis, clinical research and forensic toxicology applications. Data review is customizable and assigns multiple flags to aid with quick identification of problem areas within a data set. To protect the integrity of analytical data, the software also includes a rights-based secure user login system.