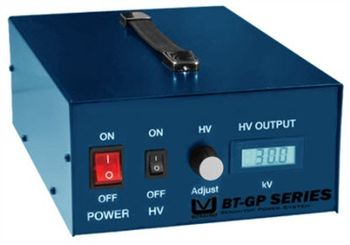 Lower Output Voltage Ranges On The Bt-Gp Series Now Available
UltraVolt, Inc., a world-leading manufacturer of high-voltage power supplies and high-voltage power systems, announced today lower output voltage ranges on its general purpose bench-top power system – the BT-GP Series.
UltraVolt will now offer the BT-GP Series of Bench-Top "General Purpose" power supplies at 1kV, 2kV, 4kV, and 6kV of output power at 30W. Previously, UltraVolt offered the BT-GP Series at 10kV, 20kV, and 30kV at 30W of output power. A similar product - the BT Series – is offered with output voltage up to 6kV at 6W with advanced controls & connectivity. The new, lower voltage range on the BT-GP Series fills in the gap in the product lines by offering bench-top devices at 30W in lower voltages. The BT-GP Series is ideal for OEM biasing applications such as air purification, process fluid cleansing, hi pot testing, and for laboratory research.
"UltraVolt is excited to expand our lower cost general purpose bench-top products with additional voltage choices below 10kV", said James Morrison, CEO and Co-Founder. "With a 30W capability these 1kV to 6kV models offer higher output currents to power our customer's needs for ranges of price/performance. With these units we continue "Making High Voltage Easier® by meeting the needs of our customer's applications."