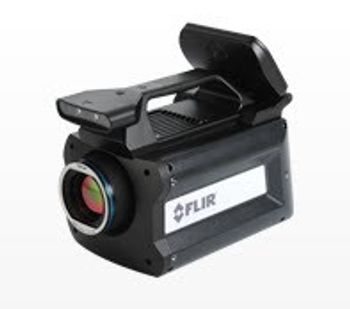 Designed to provide ultra-sensitive and accurate measurements, ease of use and the most advanced connectivity in a compact, yet full featured thermal imaging camera - FLIR SC8400 /SC6500 systems are ideal for scientists and R&D professionals working on the most demanding applications.

Providing high-definition images of 1280 x 1024 pixels, FLIR SC8400 / SC6500 thermal imaging cameras will reveal the faintest of thermal anomalies and allow you to see the smallest of details.

Incorporating the most advanced detector technology - FLIR SC8400 / SC6500 cameras can detect temperature differences smaller than 25mK (18mK typically). Using FLIR's proprietary "lock-in" facility is able to process temperature differences as small as 1mK can be made clearly visible. Designed to unlock the secrets of almost any application a FLIR SC8400 or SC6500 camera can measure temperatures up to 3,000º C with an accuracy of +/- 1ºC or +/- 1%.

FLIR SC8400 cameras offer an adjustable frame rate of up to 100 Hz full frame. FLIR SC6500 cameras have an adjustable frame rate of up to 125Hz full frame. Both FLIR SC8400 and SC6500 cameras can deliver images up to a speed of 3,000 Hz. Windowing allows a subset of the total image to be selectively read out with adjustable window size. The sub-sample windows can be arbitrarily chosen and are easily defined. Each FLIR HD thermal imaging camera integrates advanced high performance optical design with lens recognition and automatic measurement adjustments. A temperature probe in the lens assembly provides leading-edge measurement accuracy and drift compensation. A choice of lenses is available for use on all FLIR SC8400 / SC6500 thermal imaging cameras.

FLIR SC8400 / SC6500 thermal imaging camera's offer a range of connectivity options. These include Gigabit Ethernet for simple connectivity, Camera Link medium for full bandwidth data acquisition, DVI-output compatible with 1080p and Wi-Fi to enable image transfer and control the camera wirelessly via a smart phone (iPhone) or a tablet PC (iPad). In addition standard BNC connectors are included for often used features such as detector synchronization, acquisition triggering, analogue lock-in input and composite video output. Commonly used camera configurations can be saved to the micro SD-card enabling SC8400 / SC6500 cameras to be used by multiple users without requiring expertise in camera reconfiguring.

To provide the flexibility often demanded by R&D applications - FLIR SC8400 / SC6500 thermal imaging cameras can be adjusted to meet almost any need. The LCD touch screen can be removed from the camera when space is at a premium allowing the camera to be installed in a hard to reach position. Just position the camera and you can remotely control it. An integral LED light on the camera ensures clear visual images even in dark environments. The visual image can be used as a reference against the thermal image.