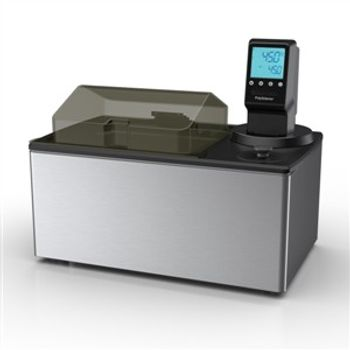 Highly accurate and exceptionally easy-to-use, the PolyScience Coliform Bath is specially designed for for fecal coliform and E.coli testing. It features an ambient +10° to 135°C temperature range, ±0.7°C temperature stability, 28 liter reservoir, and is equipped with the company's economical MX temperature controller.
Suitable for APHA, AWWA, WEF and EPA fecal coliform determinations as well as other standard coliform and E.coli tests, the Coliform Bath is equipped with a hinged see-through gable cover, single speed pump, user-adjustable temperature alarms, calibration capability, and chemical resistant top plate.
Its highly intuitive MX controller makes temperature and operational changes particularly simple and straightforward. A large backlit readout displays both actual and set point temperatures and temperature units, high and low temperature alarm levels, and calibration are all user adjustable.