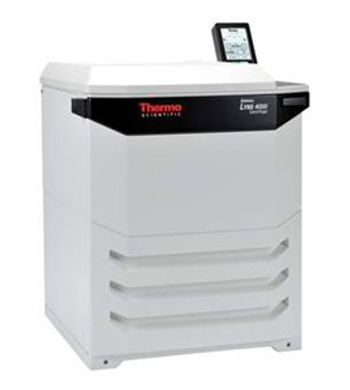 Exclusive Innovations of Auto-Lock Rotor Exchange and Auto-ID Rotor Identification Simplify Performance and Safety
Thermo Fisher Scientific Inc., the world leader in serving science, today announced the new Thermo Scientific Sorvall LYNX superspeed centrifuge series, delivering productivity, safety and reliability to maximize everyday centrifuge use in shared laboratory settings.
The Thermo Scientific Sorvall LYNX centrifuge features a 100,000 x g top speed performance and supports high-throughput sample processing from 50 mL conical tubes and microplates to 1 L bottles, up to a six-liter capacity, meeting the evolving needs of academic research and production facilities alike. Run set-up is easy with the intuitive touchscreen interface featuring a bright, highly visible and durable display, while on-board video tutorials and access controls, such as user login with password protection, provide advanced training and programming options.
"Today's researchers require centrifuge performance that is simplified, to accommodate the reality that labs have multiple users with different experience levels and a variety of processing requirements," said Maurizio Merli, global product director, centrifugation, Thermo Fisher Scientific. "Our new Sorvall LYNX superspeed centrifuges dramatically simplify high-speed centrifuges while increasing user safety and peace of mind. We accomplish this with breakthrough technology advancements, such as the Auto-Lock rotor exchange, Auto-ID instant rotor identification and carbon fiber rotors."
The Sorvall® LYNX superspeed centrifuge series features built-in safety and rotor technology innovations that shorten run set-up time and increase security, including:
Secure, push-button Auto-Lock®rotor exchange in less than 3 seconds, ensures thatthe rotor is automatically and securely locked and will not loosen during a run, enhancing user confidence
Auto-ID®instant rotor identification recognizes a rotor when secured in the chamber, improving safety, saving time, and protecting the integrity of your samples
Lightweight, corrosion-resistant Fiberlite®carbon fiber rotors, including the new Fiberlite LEX designs, improve ergonomics and performance
Rotor lids for microbiological containment, certified by the Public Health Laboratory Service, Porton Down, UK.
Latest in global safety compliance without the need to bold down the instrument to the floor, simplifying installation and providing flexibility to relocate