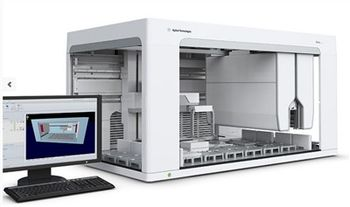 Agilent Technologies Inc. today announced the Encore Multispan Liquid Handling System, featuring an array of unique technological advances in a single instrument. The Encore Multispan Liquid Handling System is unlike any other instrument available today and will enable new automation capabilities that improve every stage of the research process.
The Encore Multispan System combines innovative multispan pipetting with the reach of a built-in robotic arm and intelligent software control to deliver a new level of productivity and throughput. Using the Encore Multispan System, researchers will be able to easily automate a larger portion of their workflow and significantly expand their walkaway time.
"In partnership with our customers, we worked to understand the many bottlenecks and limitations associated with sample-prep automation and created a unique solution," said Yvonne Linney, vice president and general manager of Automation Solutions at Agilent. "It combines advanced liquid handling and robotics to enable true sample-to-analysis automation."
"Agilent's distinct expertise in both workflow automation and liquid handling has allowed us to integrate innovative technologies into a single platform, and empower scientists to take their research to the next level in terms of flexibility, throughput and ultimately lab productivity," Linney added. "With the introduction of the Encore Multispan System, Agilent is offering scientists the ability to reach beyond routine liquid handling and experience the highest levels of efficiency and productivity in their laboratories."
The Encore Multispan Liquid Handling System will include the following innovations:
A dual, multispan pipetting systemprovides two individual banks of multiple pipettes where each moves independently in multiple axes, delivering ultimate speed and double the throughput available today. Each pipette can address a variety of sample formats, from tubes to vials to microplates.
An innovative and powerful software package features a 3-D simulator that provides researchers with the ability to set up, visualize, and optimize their protocols remotely and offline prior to running valuable experiments on the system.

A built-in robotic arm provides a span of up to 21 inches off-deck with patented one-touch easy teaching that enables end-to-end workflow integrations with unprecedented range and flexibility.
The combination of these unique capabilities will provide researchers with the ability to quickly and easily automate complete workflows for a wide range of applications, including high-throughput screening, ELISA, ADME/TOX, compound management and sample-preparation workflows for genomics, proteomics, and more.