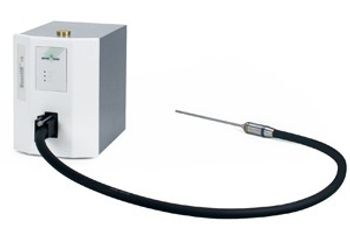 METTLER TOLEDO is pleased to announce that its ReactIR™ 15 Stirling Engine (SE) MCT model is now available. This compact, easy-to-use fourier transform infrared (FTIR) reaction monitoring system offers an effective alternative to traditional MCT detectors in situations where liquid nitrogen is too costly or unsafe for routine use. Additionally, by eliminating alignment, gas purge and maintenance, faster, simplified set-up is achieved which can significantly reduce long-term lab operating expenses.
Along with easier set-up and less maintenance, customers have the same functional performance from the solid-state SE MCT that they would by using a nitrogen-cooled model. The size, weight and design of ReactIR™ 15—and, with SE, the absence of nitrogen-handling concerns—enables easy transfer from hood-to-hood or lab-to-lab and with a wide range of sampling technology, operators can begin experimentation immediately. Ease-of-use is further enhanced for experiments running longer than 24 hours because no refilling of the dewar is required.
Coupled with METTLER TOLEDO iC IRTM software, ReactIR™ 15 offers immediate insight into reaction initiation, endpoint, mechanism, pathway and kinetics required for successful compound development. Users can even set an automatic shut-down the instruments user preferences to extend the reactor's working lifetime, further protecting the lab's capital investment.
Adding iC Kinetics™ provides an in-depth graphic visualization of reaction characteristics. Based on the results, operators can make decisions regarding experiment optimization quickly, enhancing speed-of-development in today's competitive organic chemistry marketplace.