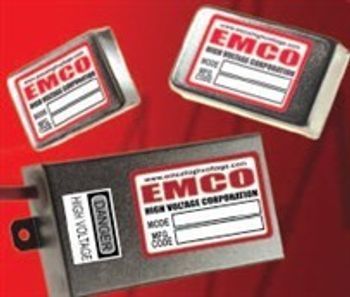 New listing reinforces EMCO's commitment to their customers.
EMCO High Voltage Corporation announced that its C and CA Series of regulated high voltage DC to DC converters received Underwriters Laboratories (UL) Mark. One of the most recognized symbols of safety in the world, the UL Mark indicates that UL has thoroughly tested and evaluated the product to determine that it meets their exacting safety standards and has certified two EMCO manufacturing facilities for production of these units. Before a product is entitled to bear the UL Mark, it must undergo a rigorous process and a thorough follow-up procedure to ensure that it complies with UL's safety requirements. Throughout the life of a product, UL continues to evaluate product safety at manufacturing facilities.
"Receiving UL listing for our C and CA Series allows EMCO to further demonstrate to our customers that we are listening to their needs and requirements," said Kim Bailey, Sales and Marketing Director at EMCO. "It also showcases the high level of our product design and manufacturing operations."
The C and CA Series line of miniature, regulated high voltage power supplies provide clean, reliable high voltage power with low ripple, noise, and EMI/RFI. High stability and precision 0 to 100% programmability make both suitable for use in sensitive equipment, including photomultiplier tubes, solid state detectors, EO lenses and electrophoresis devices.