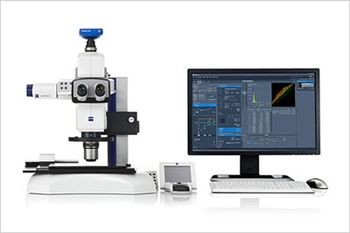 Fast with high resolution – for large object fields
With Axio Zoom.V16, Carl Zeiss is defining a new instrument class in microscopy. For the first time, zoom microscopes are now combining typical benefits of stereomicroscopes such as zoom optics and long working distances with the higher resolutions of light microscopes. In comparable image fields, Axio Zoom.V16 offers a 2.5 times higher resolution than stereomicroscopes. With a 16x zoom range, Axio Zoom.V16 surpasses all comparable microscopes currently available.
Zoom microscopes with high apertures offer decisive benefits when it comes to scanning component parts as well as in quantitative and qualitative materialography. Identifying homogenous component parts is as vital for optimizing production processes as it is for quality assurance. Fast imaging of large measuring surfaces with high enlargements allows for statistical analysis of structures: Details such as pores can be enlarged to a great extent, then analyzed, digitally imaged and documented.
The EpiRel contrast shows a relief structure even on flat samples, such as wafers.
Customers choose from a comprehensive range of accessories for individual configurations that match the needs of a wide variety of applications. Technologies such as the digital lens tube increase the flexibility of these zoom microscopes.