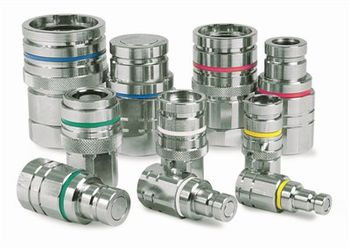 CEJN non-drip couplings are designed for broad use in low-pressure fluid and vacuum applications. The coupling range is among the few couplings available on the market that are specially designed to meet performance and safety requirements of the fluids arena. Most coupling manufacturers have altered their pneumatic or hydraulic couplings with different construction materials in an attempt to make them suitable for crossing over into the fluids market. Consequently, their make-do products are only make-do performers.
Living up to its Global Quick Connect Specialist image, CEJN developed the non-drip coupling range solely for fluid transfer applications. The product range is ideal for connecting all types of fluid lines, even those as diverse as beverage, electronic coolant, salt water, and oil transfer lines.
Two design features give the product widespread appeal:
Non-drip construction—Depending on the fluid being conveyed, fluid spillage may have the potential to cause personal injury or property damage. The non-drip design ensures virtually zero spillage and eliminates pollution and air inclusion during connection and disconnection.

Modular styling—All nipple and coupling components have standardized dimensions with a common interface, enabling them to be easily combined into a wide range of configurations. With almost unlimited combination possibilities by varying seals, threads, or other product features, CEJN non-drip couplings are adaptable to most applications and system requirements.
Valved, Valveless Styles
This fluid series includes both valved and valveless couplings and nipples, which further extend application possibilities. Valved styles are one-hand operated and are the most commonly used version in fluid system applications. Due to their construction, the valveless couplings require two hands for connection/disconnection and are useful in many applications in which fluid loss upon disconnection may not be critical.
Three configurations are available in the extensive standard range, including double shutoff, single shutoff (requires a valved coupling and valveless nipple), and straight through.
Material Selection
CEJN non-drip couplings are available in ¼-inch to 1-inch body sizes in:
Nickel-plated brass with nitrile seals— Suitable materials for the vast majority of fluid transfer applications that were the fundamental basis for the range's modular styling
AISI 316 stainless steel with Viton® seals—Superior-performance materials for demanding applications in which increased corrosion resistance and heat resistance are required
EPDM, Kalrez® and other seals are available upon request to comply with extreme performance objectives.
All sizes have working pressures from full vacuum rating to 20 bar (290 PSI) and are operational in temperatures as high as 315° C (600° F). Like all CEJN coupling series, the non-drip range offer optimum flow, minimal pressure loss, and years of trouble-free service.
Three Safety Levels
Couplings and nipples in the CEJN non-drip modular range are offered in three safety
levels, which enable users to choose the exact level of safety required and to control cost
by choosing only the required safety features. The safety levels include:
Level 1—Standard
Includes basic couplings and nipples.
Level 2—Color Coding
Includes standard couplings and nipples with color coding, which can be used to identify media and/or pressure lines and the corresponding nipple for each coupling. Both couplings and nipples are available with color-coded rings in black, blue, red, white, or yellow. Standard couplings and nipples have green color-coded rings.
Level 3—Key Coding
Includes couplings and nipples with a non-interchangeable key feature that prevents cross-connection—a potentially dangerous situation. Only couplings and nipples with the same key can be connected. Standard nipples can be connected with key-coded couplings and vice versa.
Added Safety Option
As an added safety measure, all couplings and nipples are offered with an optional safety-locking device that eliminates the risk of unintentional disconnection. When the nipple is connected and locked into place, the extra locking feature is engaged by manually turning the locking sleeve. For disconnection, the locking sleeve is simply turned back into place. The nipple can only be disconnected when the locking sleeve is in the correct position.