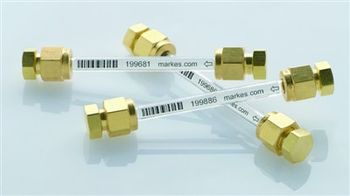 Specialist ceramic decal developer Xerital has come up with a system of serialised barcodes that can be applied to glass substrates – and now the world's leading sorbent sample tube manufacturer, Markes International, has switched entirely to this method for glass tube marking.
Xerital's high temperature decals, which incorporate the barcode, are actually fired on to the glass tubes, resulting in a permanent marking that is strongly resistant to scratching, chemical attack and thermal processes. The final, fired product is not only extremely durable but provides for a high resolution output which is vital for accurate code scanning and reading.
Already being successfully applied in the production of ceramic sanitaryware, where the firing temperature is more than 1200°C, the barcodes yield valuable information on product tracking and operative performance, through to warehousing, stock control and, finally, to the 'in-service' stage.
For over a decade, Markes International – which is based in the South Wales town of Llantrisant around 20km from Cardiff – has pioneered analytical thermal desorption (TD) instrumentation and associated sampling equipment. Markes also has the widest range of thermal desorption consumable products on the market.
As the world leader in thermal desorption technology, Markes International's ethos is firmly focused on innovation and on designing products that help make its customers' lives easier.
This commitment led to its decision to enhance the labelling of the sorbent tubes. These are used for capturing volatile organic compounds (VOCs) from air, with subsequent laboratory analysis. Labelling on the existing sorbent tube range comprised an alphanumeric serial number and Markes branding, but now needed to include the serial number in barcode format.
Having a barcode on the sorbent tubes was an essential requirement, as it helps customers to reduce errors when recording and tracking samples, as well as eliminating time-consuming manual data entry. The barcode also had to be in Code 128 format to provide optimum long-term readability. This particular format is an ultra-high density linear symbology designed to encode text, numbers and numerous functions and is so called because it features the entire 128 ASCII character set.
Switching to Decals
For Markes' range of stainless steel sampling tubes, the company had always achieved good results by using a laser marking process. However, it found that this wasn't suitable for creating barcodes on the range of glass tubes as it couldn't make the detailed and clearly defined markings needed. The Markes team therefore set about identifying an alternative process.
"The requirements of this job were very challenging", explains Steve Oldfield, Consumables Product Manager at Markes International, "and any solution had to be precisely tailored to our requirements in order to meet our high standards.
"Once VOCs have been sampled on to our sorbent tubes, they are analysed by thermal desorption–gas chromatography. As part of this process, the tube has to be heated to a high temperature under a flow of inert gas and for some applications the temperatures can be as high as 400°C."
The tubes also have a long lifetime (the sorbent inside the tubes can itself last for up to 200 thermal cycles), so the barcode had to be hard-wearing. In addition to this, the barcode had to be formed on the tube's relatively small curved surface but still be easily readable by a hand-held scanner.
Markes tested samples from several manufacturers, all of whom applied barcode 'labels' designed specifically for high-temperature applications. Unfortunately, these tests found that at prolonged high temperatures the labels became smudged and unreadable.
Following this, Steve and his colleagues explored the use of high-temperature paints, but the ink-jet application process proved problematic and, as with the other methods, it didn't perform particularly well after being exposed to prolonged high temperatures.
Discovering Xerital
"When we met with the team at Xerital, we straight away found them to be very positive and quick to gain a clear understanding of our requirements" says Steve. "The samples they provided for us were applied using a kiln-fired ceramic decal and our testing showed these to be extremely good. In particular, the white ceramic background made barcode-reading far more reliable than with sorbent tubes from other suppliers, where the barcode had been applied directly on the glass."
The barcode decals also proved to be durable and to offer long-lasting quality. They are heated up to 700°C as part of the firing process, so they are more than capable of performing well at the high temperatures reached during laboratory analysis.
"This project at Markes International has turned out to be an excellent demonstration of the advantages of our specialist ceramic decals for glass applications," commented Howard Quinn, Xerital Director. "We cooperated very closely to achieve this success and I feel that, technologically speaking, both we and Markes moved forward as the process took shape. It's been a pleasure to work with Steve and his team."
The Xerital barcode decals can be applied to new or existing tubes and are particularly useful for large-scale monitoring studies and for labs with significant sorbent tube stock. High-temperature barcodes can be serialised to customers' required size and code and integrated into their existing IT system.
"Our entire stock of glass tubes are now barcoded by Xerital and their ongoing process improvements have ensured that product quality continues to be of the highest order," concluded Steve Oldfield. "We are committed to building on our relationship with Xerital and are now exploring innovative ways to introduce colour labelling to our range of glass tubes."