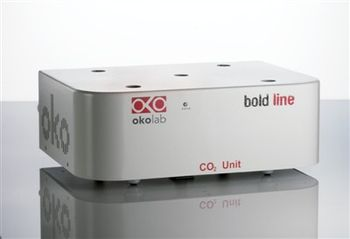 Warner Instruments is pleased to introduce the Bold Line CO2 Controller, part of the complete line of gas controllers from Okolab. Warner Instruments is the Authorized Distributor for Okolab products in the US .
Features Include:
Adds CO2 to air or N2
Fully integrated with Bold Line Temperature Controllers
The Bold Line CO2 controller mixes Air or N2 and CO2 and controls the gas concentration with digital accuracy. Mix CO2 from 0-18% concentration with an accuracy ±5% of the concentration. Set point resolution is 0.1%
The Bold Line CO2 controller is easily operated via a touch screen interface, OKO-Control 2.0 software, or Nis Elements software.
The controller can be attached to an O2 Unit-BL [1-20] to control both CO2 and O2 within the range 0-10% and 0-18%, respectively.
An optional Smart Box data logger and web server allows operation via any web-enabled device. Sensor calibration is made with an external meter or calibration gas.