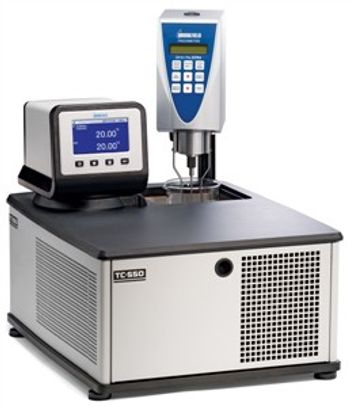 Brookfield Engineering is pleased to introduce their new TC Series Circulating Water Baths. These baths are uniquely configured for use with Brookfield viscometers and rheometers. The New TC Series features a number of exciting improvements including: touch screen technology, multiple languages and a sleek new design to name just a few.
There are four models are available: TC-150, TC-250, TC-550 & TC-650. All are offered with a choice of digital or programmable controllers and feature Control Heads that now swivel, adjusting to a position that best suits the operator.
The new menu-driven color touchscreenin the ap controller is easy to use, features a "Help" button that provides valuable user tips and information., and operates in any of six languages: English, Spanish, French, German, Chinese or Arabic.
The sleek new design features rounded corners, a new color scheme and a composite deck that is both stain and chemical resistant. The new TC Series offers USB, Ethernet and RS-232 connectivity. Operating temperatures range by model from -20° to 200°C.