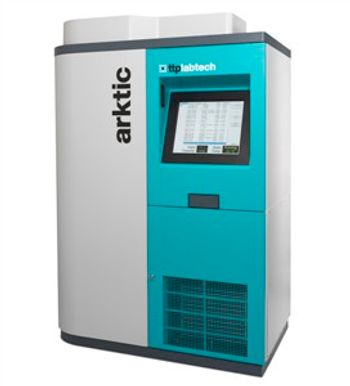 Low cost, low footprint biobanking systems protect samples from submission to screening

TTP Labtech will showcase its affordable and compact automated biobanking systems at the upcoming SLAS 2013 conference and exhibition in Orlando, FL, USA from 12-16 January. The company will be demonstrating the unique benefits of comPOUND® and arktic™ fully automated storage modules and its lab2lab® sample transport solution. As part of the biobanking sample management workflow the fully automated capper, decapper and mosquito®, the low volume liquid pipetting solution for assay preparation and miniaturisation, will also be demonstrated. TTP Labtech's complete system ensures increased sample integrity in a fully automated workflow from sample storage to screening.
As sample libraries increase in both small research groups and large corporations, there is a growing need for affordable, low footprint and contamination-free automated biobanking systems for processes such as plasmid production, whole blood extraction and storage, forensics, protein storage and tumour banking. Manual sample handling is time-consuming, laborious and error prone and this, combined with large space consuming storage units puts a strain on research facilities. Cross-contamination is also a frequent risk and sample integrity can be compromised by regular freeze/thaw cycles.
TTP Labtech has answered this need with the development of its comPOUND (ambient to -20°C) and arktic (-80°C) automated storage modules. These are capable of storing up to 3 times the number of samples of a standard -80°C freezer within almost the same physical space. The storage modules have no moving parts within the cold zone, instead relying on TTP Labtech's proprietary pneumatic transport technology. Samples are stored individually under nitrogen or dry air in hermetically sealed chambers eliminating contamination worries and improving sample stability.
The lack of moving parts ensures robust unit longevity and automation with air further safeguards sample integrity by enabling fast and efficient cherry picking, avoiding the unnecessary freeze/thaw cycles that are incurred when a whole plate is removed. Sample submission to these units is fast, simple and accurate thanks to simple barcoding and LIMS (Laboratory Information Management System) integration.
TTP Labtech's pneumatic transport system ensures full chain of custody through the connection of these remote storage units to laboratories via its lab2lab system. This small, bench-top microtube sender is capable of easily transporting sample microtubes 1000m or further, enabling researchers in remote laboratories to safely and quickly submit samples to multiple storage facilities elsewhere. Assay set-up and analysis can then be further automated by the use of systems such as the TTP Labtech decapper, for fully automated decapping of racks of up to 96 tubes within 90 seconds, and the mosquito HTS and mosquito HV for automated assay miniaturization.
TTP Labtech will exhibit comPOUND, arktic, lab2lab, mosquito and capper/decapper at booth 1213 at SLAS 2013. For a chance to win a new mini iPad amongst other prizes, visitors can test TTP Labtech's biobanking automation with air by entering a "Tube Prize Draw". Barcoded tubes will be scanned and sent from the lab2lab unit to arktic, with winning tubes randomly drawn from the arktic at the end of the day.
TTP Labtech's innovative arktic automated -80°C storage module will also be presented in the highly interactive Late Night with LRIG (Laboratory Robotics Interest Group) forum on Monday January 14 at 7-9pm, where attendees will have the opportunity to discuss and learn about the latest innovations in laboratory automation.