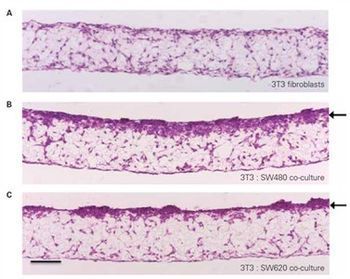 AMSBIO's customers are among those who are providing positive feedback on how the alvetex® 3D cell culture scaffold is opening up much more relevancy in their applications. These comments* come from a variety of scientists both in industry and academia.

Available in a range of flexible, easy-to-use formats - alvetex® is proven to be fully compatible with a wide range of assays including tissue processing, histological staining, in situ hybridization, bright-field microscopy, electron microscopy, cryostat sectioning, immunocytochemistry, fluorescence microscopy, confocal microscopy, flow cytometry, cytospinning, nucleic acid extraction and total protein biochemical assays.

At the forthcoming SLAS 2013 conference in Orlando, FL – AMSBIO will exhibit on Booth 2013, its full range of alvetex products including launching a new alvetex® scaffold 96-well microplate.

alvetex® is a highly porous polystyrene scaffold engineered into a 200µm thick membrane which provides a 3D space into which cells can invade, proliferate and grow. The vertical axis of the third dimension enables additional layers of cells to form complex 3D interactions with adjacent cells simulating the structure of a tissue. alvetex® offers distinct advantages over existing 3D culture products which are technically more difficult to use, have a finite shelf life and are expensive. Importantly, alvetex® can be used for routine 3D cell culture, as an inert plastic, alvetex® is a 3D culture product which can be treated in the same manner as traditional 2D cell culture plastic.