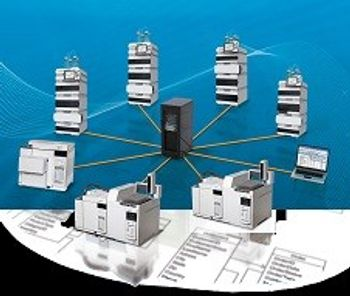 Agilent Technologies Inc. today introduced OpenLAB Data Store with Lab Applications, an out-of-the-box solution for smaller laboratories that provides secure central storage of the data produced by Agilent's OpenLAB chromatography data systems. The software is also designed to streamline the management of laboratory operations, assets and regulatory compliance.
Other commercially available solutions are designed for larger laboratories and involve a combination of enterprise-level electronic laboratory notebooks, laboratory information management systems and scientific data management systems. OpenLAB Data Store with Lab Applications is focused on the essential tasks that make it easy for smaller laboratories to install and do their work.
"Smaller chromatography labs want to adopt a networked solution that's simple to deploy with minimal ongoing IT support," said Bruce von Herrmann, vice president and general manager of Agilent's Software and Informatics Business. "Because OpenLAB Data Store with Lab Applications is designed to work without customization, labs can expect to be up and running in only two days. That's up to ten times faster than other solutions."
Like their larger counterparts, smaller laboratories face demanding information-management challenges driven by the complexity of managing and securing the huge amounts of data produced by their chromatography systems. At the same time, they are challenged to achieve increasingly higher levels of productivity in managing laboratory workflows, assets and regulatory requirements. However, unlike large laboratories, smaller chromatography laboratories cannot afford the overhead associated with multiple enterprise-level solutions.
For lab managers who oversee up to 15 Agilent chromatography and Agilent single quadrupole LC/MS systems, OpenLAB Data Store with Lab Applications offers the following benefits:
Centralized, chromatography and LC/MSD data storage and retrieval
Automated workload scheduling and workflow management
Efficient laboratory event and asset tracking
Comprehensive data security, audit trails and e-signature authorization
Simplified U.S. FDA 21 CFR Part 11 and EU Annex 11 compliance
Cost-effective deployment, administration and maintenance
OpenLAB Data Store with Lab Applications is part of an industry-leading suite of software products designed to integrate and manage scientific information throughout its lifecycle, across the laboratory and the enterprise. It complements Agilent's OpenLAB Enterprise Content Manager software for the management of multi-vendor, multi-instrument data. OpenLAB ECM is fully scalable for worldwide deployment.