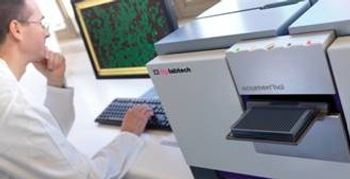 High throughput meets high content imaging for cell-based primary screening

TTP Labtech has announced the release of the acumen® hci (high content imaging) system, developed for researchers who are looking to increase the productivity of their high throughput imaging. Replacing the acumen eX3, the new acumen hci is the fastest imager on the market for multiplex assays in up to 1536-well plates, and the new open-source image format means users have complete flexibility to analyse images on their existing analysis software if required. Together with whole-well imaging, these features make the acumen hci ideal for identifying "hit" wells in cell-based screens. The new system will be premiered at SLAS 2013 (12-16 January 2013) on the TTP Labtech booth #1213.

Achieving unparalleled speeds during high throughput screening, acumen hci can image and analyse the whole wells of a 96- to 1536- well plates in just 8 minutes, at a resolution of 0.5 µm/pixel. This enables the effective screening of high density plates and facilitates assay miniaturisation, with associated increase in throughput and reduced costs. Data is robust and insightful even during rapid screening, and up to three lasers allow for easy multiplexing using a wide range of fluorescent dyes. The new 561nm laser option offers compatibility with even more dyes, like mCherry. Furthermore, with intuitive operation, multiple members of staff can be easily trained on the acumen hci for efficient use of the screening program.

The acumen hci incorporates TTP Labtech's proprietary cellista software which enables high throughput whole well imaging of a greater range of hard-to-automate assays, including angiogenesis, neurite outgrowth, nuclear localisation, translocation and cytotoxicity. The novel open-source, OME-compliant TIFF images can be exported without reducing scan times and are easily imported into a range of open source and commercial image analysis packages, so they can easily fit into existing workflows. The acumen hci is also compatible with microscope slides using the widefield objective, for imaging of whole tissue sections in minutes.

Paul Wylie, product manager of acumen at TTP Labtech, commented, "The new acumen hci rises to the challenge of speed versus high content, without compromise on either side. We have developed it as the perfect complement to traditional imaging systems. The acumen hci can be used for cell based assays including compound screening and RNAi studies to provide images of "hit" wells at the highest throughput. These specific hits can then be further analysed for hit confirmation at slower speeds and higher magnification if required."

To learn more about the new acumen hci, visit booth 1213 at SLAS 2013, and join our open breakfast tutorial "The New acumen - Advanced High Throughput Imaging to Significantly Increase Your Screening Capability" on Tuesday, 8-8.45 15th January, Room Osceola 3-4.