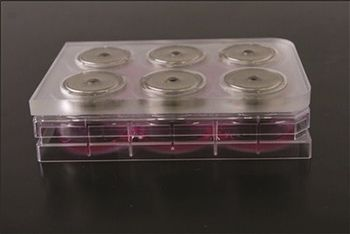 Levitating cells provides a more accurate representation of tissue in vivo

Bio-Assembler Kits utilize magnetic levitation to culture cells in 3-D. Available in single, six and 24-well configurations, the kits supply magnetic drivers, low-binding dishes/plates, and Nanoshuttle-PL solution in quantities and volumes appropriate to kit size.

Nanoshuttle-PL solution delivers magnetic nanoparticles to cells. The magnetic driver that nests on top of the dish/plate then levitates the cells to create a 3-D environment. Using the Bio-Assembler Kits is as easy as performing standard 2-D cell culture plating and propagation.

Culturing cells in 3-D facilitates rapid formation of floating yet connected scaffold-like structures with cell-cell interactions, thus providing a more accurate representation of tissue functionality in vivo. The process is compatible with virtually any cell type, including primary and stem cells, with any media type, with standard culturing protocols and diagnostic techniques, and is applicable to invasion studies and tissue engineering.

Bio-Assembler Kits are available from MIDSCI through an agreement with n3D Biosciences, Inc. (Houston, Texas) and will be offered to life science researchers in pharmaceutical, biotech, academic and government institutions throughout the United States.

"MIDSCI is excited about this opportunity. The Bio-Assembler Kits replicate cell growth in a true 3-D structure that provides better recovery, imaging, and reproducibility," said Scott Leigh, vice president of sales at MIDSCI. "The Bio-Assembler line is something that our cell culture clients will find to be of great value and high utility."