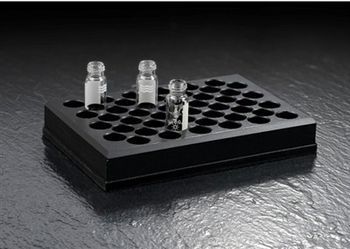 Porvair Sciences has announced a new version of its MiniVap™ Blowdown Evaporator able to quickly and safely remove solvent from up to 48 vials in parallel.

Made from solvent resistant black polypropylene the new MiniVap Vial Holder has been designed to accommodate up to 48 vials* in a standard SLAS / ANSI format.

Incorporating advanced evaporator head technology which directly injects heated nitrogen into 48 HPLC vials simultaneously, the MiniVap removes the traditional laboratory 'bottleneck' of solvent evaporation from vials.

The MiniVap™ Blowdown Evaporator takes just minutes to remove volatile organic solvents from your samples collected in 24- or 96-well microplates and now HPLC vials.

Compact in design the affordably priced MiniVap™ is simple to install, operate and maintain. Installation just requires connection to a gas supply and standard mains socket. Safety of operation is ensured as the CE marked compact unit fits into all fume cupboards.