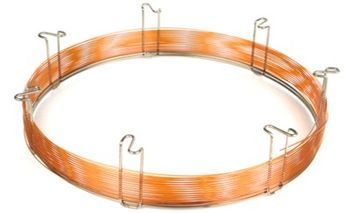 Phenomenex Inc., a global leader in the research and manufacture of advanced technologies for the separation sciences, introduces Zebron ZB-SemiVolatiles GC columns. Specially designed for the separation of semivolatile compounds, the new columns feature Phenomenex's proprietary Enviro-Inert technology, which improves column inertness for ultra-low-level detection without altering selectivity. Zebron ZB-SemiVolatiles GC columns separate 135 compounds in under 14 minutes, and exceed the demands of EPA 8270D suitability requirements. Available now in the U.S. and Canada, the new columns are ideal for semivolatile compound analysis in drinking water, wastewater and soil samples and other environmental applications.

Zebron ZB-SemiVolatiles GC columns deliver rugged performance in addition to improved peak shapes and response for acids, amines and PAHs, compared to other products on the market. The new offering provides the same elution order when switching from other five percent phenyl-arylene columns. Zebron columns hold calibration and are rugged enough to withstand multiple injections, for long life and reduced downtime.

Each ZB-SemiVolatiles GC column is individually QC-tested using two rigorous, specially designed mixes. The first is a traditional mix that tests for efficiency, selectivity, bleed and general activity. The second is the 8270D tune mix, which includes an MS tuning standard (DFTPP), the 8270D suitability compounds (Benzidine, Pentachlorophenol, and DDT) and an additional test probe (Pyridine, an active base). "No other manufacturer uses this second test mix, which is even more rigorous than what is required for EPA system suitability, and competing columns fail our QC tests," explains Kory Kelly, technical manager for GC and environmental products at Phenomenex. "This gives our customers confidence because the column has already passed the suitability requirements for this demanding method."

Ryan McKernan of TestAmerica, Inc. is an early user of the Zebron ZB-SemiVolatiles GC column. "I have found the Phenomenex ZB-SemiVolatiles columns to be superior in quality and durability to any other products we have used. The columns not only last longer, but the reproducibility is extraordinary," he said. "The column holds calibrations particularly well, even after multiple injections of samples with difficult matrices. All of this equates to less downtime and maintenance and more productivity for TestAmerica."