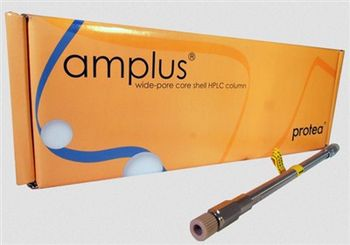 Protea Biosciences Group, Inc. a leading developer of new bioanalytical technologies, announced at the ASMS Sanibel Conference the introduction of Amplus® wide-pore core shell HPLC columns, a new line of liquid chromatography columns specifically designed for intact proteins analysis.

This new family of HPLC silica-based columns employ core shell technology combined with a specific porosity designed to facilitate proteins separation, including those with high molecular weight.

"This year the ASMS Sanibel Conference is focused on Top Down proteomics applications and we thought it was a great opportunity to introduce a new technology designed for intact protein chromatographic analysis," stated Alessandro Baldi, PhD, Vice President and General Manager of Protea Biosciences. 'Amplus' technology provides scientists with high chromatographic efficiency and facilitates Top Down proteomics approach to study intact proteins with or without mass spectrometry."

Amplus, the new brand of analytical columns, has been developed in collaboration with the Japanese firm CromaNik Technologies and it is available in different chemistries and porosities to facilitate and resolve the most difficult separations in Top Down proteomics studies.