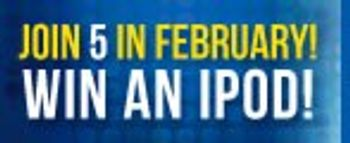 Join 5 In February!


During the month of February, join at least 5 communities on LabWrench for a chance to win an iPod!!
What is a LabWrench Community?
A LabWrench Community allows you to get the latest updates and see the most recent questions, answers solutions, tips and tricks about the lab products you use in your lab or the categories and companies you find of interest. Joining a community is always free and easy to do.

STEP 1 - Login or register for an account on LabWrench – It's free to join and easy to use!

STEP 2 - From your My Bench tab, click on "Join Communities" and follow products, companies or categories that are relevant to your needs in the lab. New or existing members must join at least 5 communities of your choice to qualify.

STEP 3 - Once you have joined at least 5 communities, you will be automatically entered to win an iPod



Contest Rules:
• iPod must be shipped to a valid laboratory address
• Participants must be located in North America or Europe
• Open to registered members between February 1st - February 28th, 2013
• Contest closes February 28th 2013, 11:59 PM EST
• New and existing members must join at least 5 communities between Feb 1st 2013 and Feb 28th 2013 to be entered in the draw, communities joined can be any combination of products, manufacturers or categories
* If LabWrench doesn't have the lab equipment or instrumentation which you use listed on the website, send us an email with the manufacturer name and model number and we will add your product(s) to our database. Email info@labwrench.com