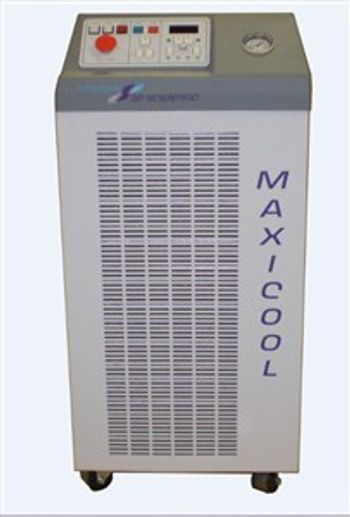 SP Scientific offers a wide range of compact and quiet recirculating chillers with heat removal rates from 1050 W (3580 Btu/hr) to 24,000 W (81,910 Btu/hr) and temperature ranges from -90°C to +150°C.

Providing years of reliable cooling for your critical laboratory reactions or production process an optimized SP Scientific chiller is available to suit your application. SP Scientifics' recirculating chillers provide highly efficient and cost effective heat removal by means of a constant flow of clean temperature controlled fluid.

SP Scientifics' range of recirculating chillers is proven for 24/7 operation whether controlling at a specific set point or temperature cycling your process. Low temperature chillers are available to eliminate costly and awkward expendable refrigerants such as liquid nitrogen and dry ice. Built on a foundation of advanced thermal engineering, all SP Scientific recirculating chillers feature highly reliable, low temperature performance, with robust, easy-to-use controls backed by unmatched application and implementation support.

Ultra Low Temp recirculating chillers are available in 4 different configurations with a variety of temperature ranges starting at -90C and going up to +150C depending on options selected. The compact, floor standing ULT range are ruggedly designed for continuous operation and provide up to 11,590 BTU/hour heat removal capacity.

The Maxi Cool is a compact recirculating chiller that offers a standard temperature range of -15 to +35C (option -40C to +75C) and up to 1.5 ton of refrigeration capacity. Centrifugal pumps are standard and positive displacement pumps are available as options to meet most cooling requirements.

Ultra Cool recirculating chillers offer a temperature range of -40 to +130C (range varies by model) and a cooling capacity of up to 24000 watts (81910 BTU/hour). Systems are available with centrifugal or turbine type pumps. The rugged Ultra Cool chiller design is focused on providing users with 24/7 continual operation.

Where space is at a premium the RS Series of recirculating chillers are bench top recirculating chillers with a maximum low of -10C (-40C for low temperature systems) and a maximum high of +35C (+75C high temperature option).